2010 Texas Star Awards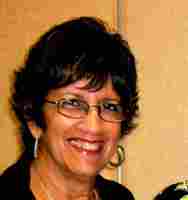 Much to the regret of Unit 172 members, Becky Mosely has left the country. The good news is that this is only a seasonal occurrence. After Becky's highly successful stint as chair of the Unit's 2009 Regional, she departed for Canada with favorite partner Warren Watson. However, her plan is to split her time between the far North and San Antonio. We will enjoy Becky's company while she's here and envy her circumstances when she's not.
Becky's planning and management of the Regional was outstanding, resulting in an enjoyable experience for the participants and a healthy profit despite the impact of the economy on bridge tournaments across the country. In addition, Becky compiled a "how-to" manual for future tournament chairs. Becky also served as tournament chair for the Unit Sectionals for two years. Becky served on the Board of Directors for six years and was Treasurer for three years. Becky has also been very active in promoting bridge through the Mentor-Mentee Program, as a Certified Teacher, and as an enjoyable partner and opponent at the bridge table. Unit 172 is pleased to honor her exceptional service as the 2010 Texas Star Award Winner.
Jolie Hess served for six years on the Unit board of directors in all capacities and her last year she was the President of the Unit. She chaired the hospitality committee for the 2005 International Team Trials, she chaired the partnership committee for the Houston Spring 2002 NABC and again as head of the partnership committee for the Houston 2009 Nationals. She is a certified ACBL director and teacher and has been a mentor to novice programs. Jolie is always very friendly and welcoming to new players at all games. Her aim is to make the unit a better place to play.
Unit 176 is pleased to select Jim Bauer for the Texas Star Award. Jim has served several terms of the Board, as Unit Game coordinator, Membership Chairman, Vice-President and three times as President, but most importantly, he has made a commitment to the game of bridge and as an ambassador of good will. Jim is one of those players that you are happy to see when you get to the table. He may give you a bad board in the process, but he is always a pleasure to play against.
In his last term on the board (which ended in January), he helped the Unit make significant strides in membership, build new games, facilitate strong and viable clubs, and improve fiscal stability. He worked to establish long-range planning, goal setting, and the implementation of new practices aimed as growing bridge in the Dallas area. A pet project was overseeing the replacement of the Unit storage trailer – a much bigger job than it sounds. It was once a major chore to move materials needed for tournaments and now tables and supplies are easy to transport and set up. He has worked with our tournament location sites and has an excellent relationship with them – so good that he will continue to serve as our liaison even after his board term ends.
When not serving as a board member, he has worked under the radar to promote the game. He is always ready to listen to ideas, suggestions, and complaints from fellow members and to take action. While everyone is sad to lose him from the Board of Directors, we want to thank him for all he has done and will continue to do. Congratulations, Jim, from Unit 176!
It is a privilege to jointly nominate Thomas and Dorothy Moore for the Texas Star Award for the Fort Western Unit 183. Their hard work in making the Arlington Duplicate Bridge Club (ADBC) and Unit 183 a continuing success is recognized by all members.
While still living in the Dallas Unit area, Tom created the first website for the ADBC. Although Tom is no longer the webmaster, the site is probably the most current and informative one in the area if not in the District.
About ten years ago Tom and Dorothy decided to give back to bridge. They became Easy Bridge presenters and never looked back. They usually start two E-Z sessions a year and as people graduate classes continue in a more advanced manner. It would be difficult to guess at the number of people passing through, but best guesstimate would be close to 400. Although all players do not remain with the duplicate bridge plan, they do learn to play for their own enjoyment. Tom and Dorothy's efforts have resulted in significant growth for the Arlington club and Unit 183.
Tom and Dorothy jointly direct several limited point games a week and attendance averages 10 tables. Everyone in those games enjoys the games as well as the mini-lessons provided before the games. Of course, their wonderful snacks could not go unmentioned!!
Dorothy was the president of the ADBC during a difficult time. A number of challenges forced the club to relocate. Dorothy provided leadership to keep the club membership cohesive and facilitate an organized move. A grand opening of weekend bridge activities provided a wonderful celebration in the new club location. Since then the club's location and games have provided much pleasure to all players.
When her term as ADBC President ended, Dorothy became the Chairperson for the Club's Growth Incentive Committee (GIC). The aim of the committee is to stimulate the interest of the players and continue the growth of the ADBC. Although Tom was not a committee member, he was present to work his computer magic for facts, figures, and trends.
Under the guidance of the GIC, Friday night games with meals were instituted and the table count has increased from 3 tables to upwards of 10. (Bridge players love to eat.)
Tom and Dorothy organized and implemented an "Eight is Enough" team event. It was extremely successful. After the first event with 32 teams there was a need to have reservations and limit the number of teams or place additional tables in the parking lot. This event is held twice a year with requests to have one every couple of months. The price of admission includes lunch and the games have generated a lot of good will.
Tom and Dorothy started a mentoring program which has been embraced by the whole club. Everyone is enthusiastic and the idea and the program continue.
This past year ADBC held its first Non-Life Master Sectional Tournament. Attendance was great and plans are for another to be held in the spring. Tom and Dorothy both served as game directors. The event happened to be held during the opening of the new Cowboys Stadium and hotel rooms were scarce. They enlisted the help of their daughter and found rooms for the out-of-towners. All went well.
The Tom and Dorothy show actually began when they both attended Oklahoma University. They became bridge partners at school and later Dorothy Rodgers and Tom Moore became partners for life. They have been married for 36 years and have two daughters and five grandchildren. They also help care for Tom's elderly parents who live nearby.
Tom worked for IBM and during his last five years there he lectured on computers in different areas of the United States. Dorothy was a math teacher and then worked from home with several computer companies until they both retired.
Unit 183 and the Arlington Duplicate Bridge Club are very fortunate to have these two individuals as part of the bridge world.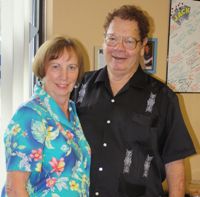 Unit 187 wishes to nominate Barbara and Beveley Estes for the Texas Star Award to be given at the Houston Regional in 2010.
It began for Barb and Bev on a cruise ship - Barb was running the bridge games and teaching and Bev was hosting. Today they live here in Corpus Christi and although they still travel quite a bit whenever they are here they work diligently for the South Texas Bridge Club. Barb has done some teaching, directs games frequently and keeps all the supplies for the club up to date as well as planning all the supplies for the Sectional Tournaments. Bev is always ready to do anything needed - hauling tables, supplies for the tournaments and whatever needs doing - including "bear hugs". They are a very popular couple and definitely deserve this award.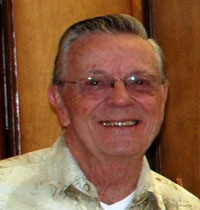 The members of the Unit 197 nominating committee for the Texas Star award are proud to nominate Ken Woodard as our 2009 nominee. Ken has chaired several sectionals and has undertaken the chore of updating and running our website. He and Anita, his wife, who shares in this award in many ways, has helped him with his many jobs. Too bad we can't have 2 awards! Together, they also updated and produced our UNIT Directory and did a wonderful job. Ken has bought software at his own expense and has gone early to a Regional to learn how to use the software and produce a wonderful website for Unit 197. Ken and Anita moved here from St. Louis about 5 years ago immediately became involved with the Unit. They both have helped with the lessons for newer players and have played with some of the newer players. We are so grateful that they have decided to stay in Lubbock and become so active in our Unit. We are proud to give Ken the Texas Star award this year.
John Petersen is a long time director, teacher and former club manager from Comox, BC. John was instrumental in starting the Puerto Vallarta Bridge Club and guiding it through its first year. When a group of players decided to break away from the non-sanctioned bridge club to start an ACBL-sanctioned club, John volunteered to teach director classes and give on-the-job training at the new club which had its first game on February 6, 2009. Originally scheduled to return home in late March, John and his wife, Arlene, changed their plans, extending their stay in Puerto Vallarta another month, so that they could administer director tests and continue helping the club get off the ground. All four of John's students passed the director tests and are now directing at the club. So this year, the Star of Texas is being awarded to John at the request of his directors in deepest gratitude for his guidance, generosity and good humor.
Mark McAllister has served as Unit President, webmaster and photographer and has assisted with supplies and publicity for many years. He has contributed greatly to the growth of duplicate bridge in South Austin. He has chaired several sectional tournaments and has helped run numerous other tournaments and unit events. Mark can always be counted on to help out in a timely, conscientious and thorough manner.
Gloria Crites has been selected the Texas Star Award Recipient for Unit 209 for the year 2010.
Gloria has been a member of the ACBL and Unit 209 for over thirty (30) years. She has worked tirelessly as an officer, board member, teacher of bridge, and handling other menial jobs, which as we know, have to be done.
She is the wife of Billy and they have enjoyed their married life for well over fifty (50) years. Billy served our country in the military service for twenty (20) years. Gloria moved from the snow and cold of the North to the sunshine of Florida, and to Japan, as she supported him in his tours of duty, taking part in the base's activities, working as a secretary, and playing bridge.
She is a wife to Billy, mother to son Bob and daughter Stace, mother-in-law to Kay and Richard, grandmother to Jordan, Blake, Carson, and Shawn - all of whom she supports vigorously. She is a true homemaker, gardener, and seamstress (and a Bridge Player) all of which she shares generously with family and friends. She is always there to help her friends if they need to go to Dr. appointments, either in town or away, and if she can't - she will send Billy.
Gloria is an AVID bridge player having earned her Diamond milestone. She has taught bridge and helped many in their endeavor to learn the game.
The word "extraordinary" is defined in the Dictionary - "to go beyond the common course" and to add the word extraordinary to wife, mother, mother-in-law, grandmother, gardener, seamstress, friend, and did I say bridge player would define Gloria as our Texas Star person of the year.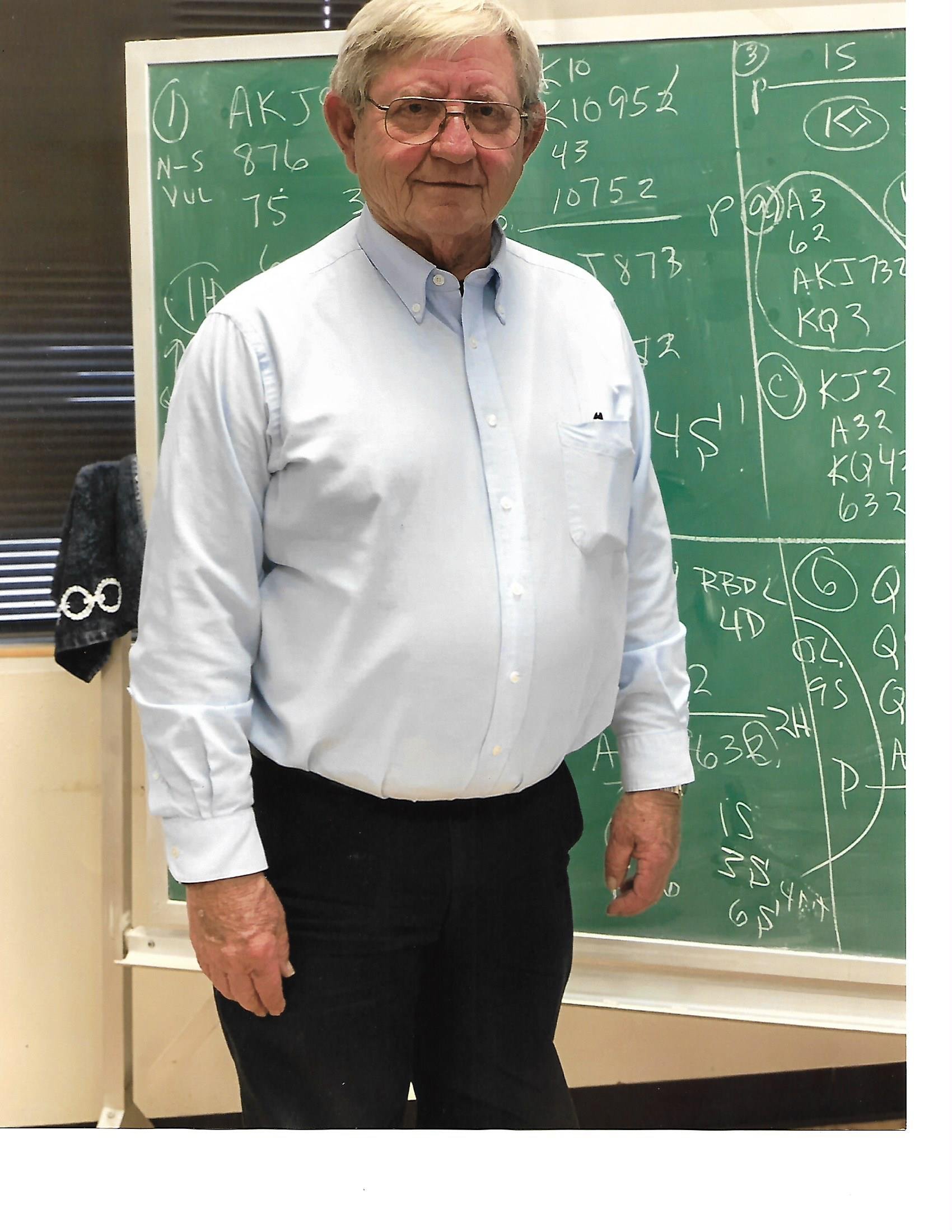 Mr. Thomas F. Corlett, K419734, 4104 Old Mill Road, Waco, TX 76710-1309, a Gold Life Masster, has been selected by our board of directors to receive the Texas Star Award for 2009. Born in New York, he moved to Texas with his parents at an early age. He taught in several school districts in the state, retireing after 10 years at China Spring ISD near Waco. He has been a member of Unit 233 since the mid-80's.
He shares his talent as a teacher with Unit members by conducting pre-game bridge lessons, mentoring new players, and being available to respond to bridge questions that arise. He actively supports bridge, playing regularly in club games and in sectional, regional, and national tournaments.
Tom served a three-year term on the Unit board of directors from December 1992 to December 1995, being elected vice-president from December 1993 to December 1994 and president from December 1994 to December 1995. He was elected Unit representative to the District board of directors for a three-year term from August 1997 to August 2000, re-elected from August 2000, to August 2003 and August 2003 to August 2006. During this assignnment, he faithfully shared reports of meeting with the Unit board of directors.
He co-chaired Waco sectional tournaments in 1999, 2004, 2005 and 2006 with exemplary results.
In 2000, Tom was one of three District 16 representatives elected to the ACBL board of governors and has been re-elected as a representative the the present time. As a member of the District 16 board of directos, he served as vice president in 2003 and president in 2004. In October 2000, he was awarded lifetime membership on the ACBL National Goodwill Committee.
Tom Corlett is the epitome of a star. As a volunteer, he has proved his ability and strong desire to promote bridge and is highly recommended to receive the Texas Star Award for Central Texas Bridge Unit 233 for 2009.
Sincererly,
R. D. Cunninghame M. D.
President